Ortley Beach, NJ Motels
There is one place to rent a room for the night in Ortley Beach - The Starlight. It is located on Route 35 North, between 3rd and 4th Ave. Years ago there were more hotels in Ortley Beach but they have all been converted to apartments or condominiums. Fortunately the Starlight is well managed. They work hard to maintain a nice facility and take good care of their guests. The motel even has a pool, just in case you want to take a break from swimming in the Atlantic Ocean.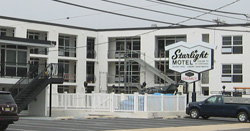 Starlight Motel and Apartments
1963 Rt. 35 North
Ortley Beach, NJ 08751
The motel is in a good location. They are only one block from the beach and within a few blocks there is a Dunkin Donuts and a number of places to eat. Barnacle Bills arcade and putt-putt golf is right across the street.
If the Starlight is not to your liking or is all booked for the time you want to visit the area, you can also check out the Lavallette hotels and Seaside Heights hotels.